3 balls of cotton Drops Design Drops love you 5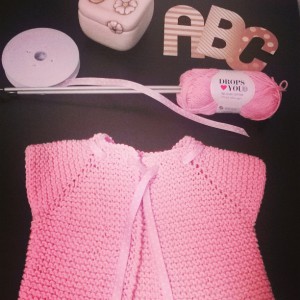 Let's go!!
Cast on 51 st on the needle
Row 1 knit
Row 2 knit
Row 3 knit
Row 4 knit
Row 5  we make the holes for the ribbon:
4 knit, " knit 2 together, 1 yarn over, 5 knit" repeat and then 2knit
Row 6: place markers like this: 10K, M, 9K, M, 13K, M, 9K, M, 10K
Row 7 increase one stitch after and before the marker like this:
knit until the stitch after the marker, yarn over, knit 1, M, knit 1, yarn over
Row 8 knit
Repeat rows 7 and 8 for 13 times overall (155 st)
We have on the needle 23st, M, 35st, M, 39st, M, 35st, M, 23st
Row 1 : 23 knit, cast off 35, knit 39, cast off 35, knit 23 (85st)
Row 2 : 23 knit, cast on 4 new stitches, 39 knit, cast on 4 new stitches, 23 knit (93st)
Knit on for 15 cm / 6 inches
Cast off with picot all the stitches like this:
cast off 3 st, "move the single stitch from the right hand needle back to the left hand needle, cast on 2 new stitches, cast off 5 stitches" repeat this until the end of all stitches.
Finish!!!
I hope you like it!
Coming soon the boy's version.