Lovely baby blanket
Baby blanket knitted in "Chevron" with 5 st at the border in garter stitch
Please read all the instruction before beginning to knit!
Size: 60 cm x 80 cm / 23 x 32 inches
Necessary:
– 3 balls of Drops Design Big Merino in grey
– 1 ball of Drops Design Big Merino in lavender
– 1 ball of Drops Design Big Merino in amethyst
– 1 ball of Drops Design Big Merino in light pink
– 1 ball of Drops Design Big Merino in plum
– Needles N. 5 / US 8
– marker
decrease: knit 2 stitches together (k2tog)
increase: yarn over
Web site: www.fromannashands.com
Mail: fromannashands@gmail.com
Facebook : Annalisa Scarani Fromannashands
Instagram: Fromannashands
Pinterest: Fromannashands
Twitter: Fromannashands
Etsy: Fromannashands
Ravelry: Annalisa Scarani / Fromannashands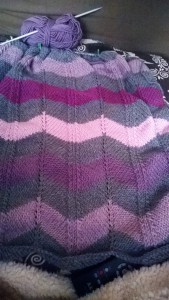 Let's go:
Cast on 120 stitches on the needle
Row 1 – knit
Row 2 – knit
In this row place Marker after 5 st, every 22, and you will have 5 left
Row 3 – knit 5 st ( for the border in garter st) "M, decrease, knit 8, increase, increase, knit 7, decrease, knit 1, "M, repeat this until the last 5 and knit them.
Row 4 – purl
Repeate rows 3 and 4 and change the color every 8 rows
Alternate grey (A) with the other colors like this:
A – B – A – C – A – D – A – E … and finish with color A
Continue until 79cm / 31 inches and now work row 1 and 2
Cast off all the stitches
Finish!!
Obviously this model can be modified in colors and size, for changing width cast on 22 stitches more or 22 less.
I hope you liked it!! Please let me know!